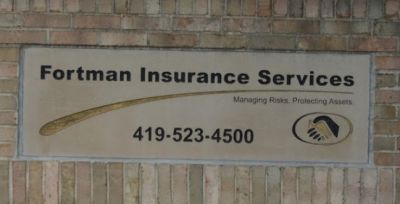 Congratulations to Fortman Insurance for establishing a successful multiple-line insurance agency from scratch, starting in 1978! The following is a history of how the business began:
John Fortman started Fortman Insurance Services in November 1978, and his wife, Catherine, joined him in 1982. After leasing buildings in downtown Ottawa, they relocated to the Westrick Realty Building. In 1991, they built their current office on State Route 65 in Ottawa. In 2004, they doubled the size of their building by adding on to the original building. On July 1, 2011, Fortman Insurance Services opened a second office located at 115 N. Main St. in Bluffton, which facilitates four licensed agents. Our appreciation to the Bluffton community, for welcoming us with open arms.

Jonathan Fortman joined the business in 2003, and is a licensed Health & Life Agent. He works with individuals and businesses to assist with their group medical insurance and ancillary coverages. The Health & Life Agents working in his department are as follows: Laurie Basinger, Lynn Hovest, Catherine Fortman and Kelsey Rau and Courtnie Billingsley. The department also specializes in all types of Medicare Products, Individual Major Medical Plans (ACA), Long Term Care, Life Insurance and Vision & Dental Plans.

Zachary Fortman, joined the business in 2010 as a licensed Property & Casualty agent. The Property & Casualty Agents working in his department are as follows:
John Fortman, Amy Baker, Annissa Hoyt, Josh Buckland and Nataley Westrick.
Fortman Insurance Services specializes in the following insurance: Farm, Home, Renter's, Vehicle, Commercial, Medicare Products, Life, Individual and Group Health and Ancillary Coverages. Over the last 43 years, Fortman Insurance Services has grown to a team of fourteen (14) licensed agents to serve people's various insurance needs. Our agents reside in and around the Ottawa and the Bluffton area.
Fortman Insurance Services is actively involved throughout the community with the American Cancer Society, United Way, Putnam County Thrift Store, Challenged Champions and many other fundraisers, benefits and community projects. Fortman Insurance Services pride themselves in giving back to the community in every way possible.
Fortman Insurance Services would like to extend a special THANK YOU to all of their clients and local communities for their support and business with their agency over the last 43 years. The Fortman Team look forward to offering their continued services for all of your insurance needs. Contact us today to schedule a FREE consultation. Check out our BIO Page, for a personal perspective on all of our agents and to obtain their individual contact information.